Origami Skateboard Stand & Display
$11.99
$14.99
saving
$3.00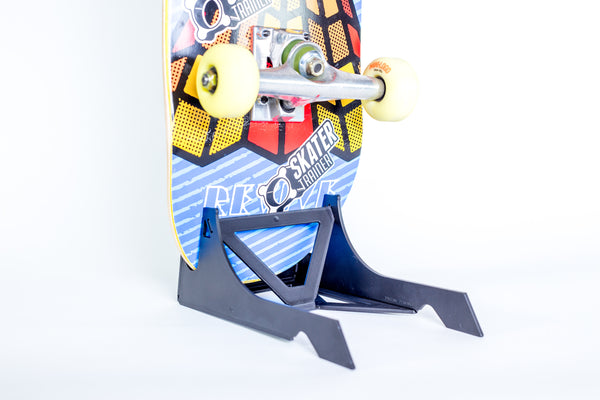 Origami Skateboard Stand & Display
$11.99
$14.99
saving
$3.00
Tired of skateboards on the floor? - Have a place to store a skateboard and display it in style with this vertical skateboard rack.
Don't want to drill holes in your wall?  Don't have a lot of space? - Our floor skateboard rack is the perfect solution. 
Parents love the Origami Skateboard Stand and Display because it gives the kids a place to store their skateboard. Kids love the Origami Skateboard Stand and Display because it holds the skateboard vertically or horizontally, so they can show off their passion for skateboarding (when they are not riding it).
The Origami Skateboard Stand and Display is the latest invention from SkaterTrainer. A creative and minimalist design that is Engineered and manufactured in the USA. We really put a lot of thought into this skateboard floor rack to help make it sleek, minimalist, efficient, and durable. It is a simple one piece design that is elegant and stylish.  It folds up when not in use for compact storage and transport, and is easily assembled in seconds. It's like a dock for your Skateboard.
This skateboard floor rack is designed for our core customers, which usually ride standard trick skateboards. The Origami Skateboard Stand & Display will store popsicle shapes, as well as shaped boards, and old school shapes in both the horizontal and vertical positions. It will work with smaller longboards, smaller electric skateboards, and hold almost any board in the horizontal position. This skateboard floor rack is not designed to store penny boards or longboards in a vertical upright position.  Patents pending.
No more tripping over skateboards.
Holds trick skateboards in place vertically or horizontally 
Keeps harsh grip tape and dirty wheels away from walls 
Portable and easy to move - no mounting or drilling!
Made out of durable and rigid plastic
Easy assembly and disassembly for flat storage
Skateboard display rack works on nearly all flat surfaces
A Great Add on to Any SkaterTrainer Order
You can also buy the Stand + SkaterTrainer Combo Pack
What About Shipping?
US Shipping: Standard shipping is FREE for any order to the US. We also have upgrades available and can get it to you as fast as 2 days. 
International / Non-US Shipping: We have very low international shipping rates, starting at $7USD for most countries for most orders.
Your shipping is calculated at checkout
How do I Pay ?
All methods we use are safe and secure. We have several options to make it easy and so you can use your favorite. 
Use ANY Credit or Debit Card

Paypal. Simply login with paypal for a speedy checkout

Pay with your AMAZON Account. Simple, easy and secure. Simply use your Amazon Login....that's IT. Currently only available in US, UK, and Germany.
International Customers / Exchange Rates
Don't Worry, We take Your Currency
Prices shown are in US Dollars (USD). Exact Exchange Rates are Calculated at the Time of Purchase based on the exchange rates used by your credit card or Paypal. You will only be charged in your local currency.  International customers please note: You May incur Duty and VAT taxes at time of delivery, depending upon your local laws.  It is more likely you will get an additional VAT bill if you use our faster shipping options.
Patents Pending Worldwide